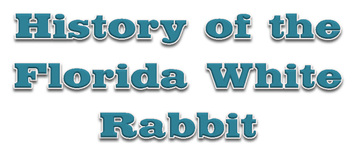 The Florida White rabbit was accepted as a breed by the
ARBA
in 1967. The breed originator was ARBA Judge Orville Miliken. He crossed an albino American Dutch, a white Polish and a small but "typie" white New Zealand and through progressive selection and line breeding obtained a stain of cobby and compact animals. Another major contributor to the development of the Florida White is Fibber McGehee. Fibber started raising Florida Whites in 1978. Through selective breeding of Polish, New Zealand Whites and a little rabbit of unknown breed, Fibber was successful in improving type.
The Florida White was developed to provide a smaller rabbit for laboratory use and provide a small fryer for the smaller families of today. They have firm flesh with small bones and very little waste.
The Florida White is also an excellent show animal. In 1977 Dale Allison won Best in Show at the ARBA convention in Houston, TX. In the youth, Tonya Forbes won Best in Show at the 1993 ARBA Convention in Tacoma, WA. In 1999, Fibber McGehee won Best in Show in Louisville, KY. Florida Whites are frequent Best in Show winners on the local level as well. With the popularity of the Florida White rabbit, the Florida White Rabbit Breeders Association has grown also.
The Florida White Rabbit Breeders Association became a charted club in 1972. If you would like more information or to join the Florida White Rabbit Breeders Association contact: Jane Meyer 1795 N 1800 E Road Thawville, IL 60968 or email Jane at
floridawhitesec@gmail.com
.
The Florida White Standard of Perfection, which is available from the ARBA, describes the point system used to judge the Florida White. The number 1 consideration in showing the Florida White is the body or type which carries 55 points, though the condition of the rabbit which would include firm flesh and fur carries 35 points (fur+color+condition) can not be left out. A true show animal!